A Fulbright Lecturer in Pakistan
Dublin Core
Title
A Fulbright Lecturer in Pakistan
Description
An article written for the Boston Globe by Mary O'Rourke
Source
Boston Globe Articles folder. Mary O' Rourke Procopio papers
Publisher
Salem State University Archives and Special Collections
Text Item Type Metadata
Text
"Toting a full-length coat purchased in Rome, while wearing a summer suit of silk and wool, had seemed sensible enough until the door of the plane had been opened in Cairo where we stopped for two hours at midnight. The dark, desert warmth, while not uncomfortable for me in a sleeveless blouse made me wonder if I would ever exist in Karachi until my supply of cotton dresses, traveling by sea freight, would arrive. The same thought occurred as I rode with the Bellizias toward their Karachi home.
My personal worry about clothes ceased abruptly as we passed miles of the most poverty-stricken homes I have ever seen. The families living in the most miserable, make-shift huts are refugees who entered Pakistan from India since partition in 1947."
Files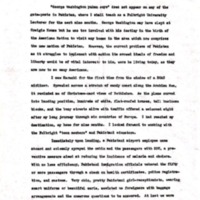 Citation
Mary O'Rourke, "A Fulbright Lecturer in Pakistan,"
Salem in the World/The World in Salem
, accessed July 12, 2020,
http://di.salemstate.edu/globalsalem/items/show/29
.