Shanghai. Wheelbarrow
Dublin Core
Title
Shanghai. Wheelbarrow
Description
This postcard depicts two Chinese men sitting on a wheelbarrow and being pushed by a third man. The use of wheelbarrows is documented in from the second century AD and onwards. The Chinese wheelbarrow features a single very large wheel in the center of the wheelbarrow. This design allows the wheel and axel to take the full burden of weight so all the person has to is guide and steer. In China the wheelbarrow was used to carry goods and passengers over short distances.
Source
Salem State Archives
Publisher
Salem State Archives
Contributor
Walter G. Whitman
Hyperlink Item Type Metadata
URL
https://www.flickr.com/photos/salemstatearchives/11324021605/in/album-72157638577513415/
Files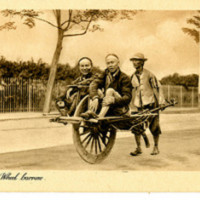 Citation
"Shanghai. Wheelbarrow,"
Salem in the World/The World in Salem
, accessed July 12, 2020,
http://di.salemstate.edu/globalsalem/items/show/33
.