Cucurbita Moschata and leaf diagram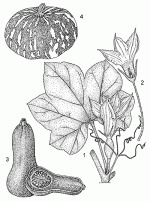 Dublin Core
Title
Cucurbita Moschata and leaf diagram
Description
A diagram of the plant, stock and leaf
Source
Grubben, G.J.H. & Chigumira Ngwerume, F., 2004. Cucurbita moschata Duchesne. [Internet] Record from PROTA4U. Grubben, G.J.H. & Denton, O.A. (Editors). PROTA (Plant Resources of Tropical Africa / Ressources végétales de l'Afrique tropicale), Wageningen, Netherlands. <http://www.prota4u.org/search.asp>. Accessed 30 April 2020.
Publisher
E. Boer
PROTA Network Office Europe, Wageningen University, P.O. Box 341, 6700 AH Wageningen, Netherlands
Contributor
G.J.H. Grubben, O.A. Denton
Collection
Citation
PROTA4U database, "Cucurbita Moschata and leaf diagram,"
Provisions
, accessed June 6, 2020,
http://di.salemstate.edu/provisions/items/show/122
.