SALEM in the WORLD & the WORLD in SALEM


(A project of the American Studies Program at SSU)
        Salem, Massachusetts, just eighteen miles northeast of Boston, has always been a city connected to and influenced by cultures and peoples from around the world. The story of a global Salem is varied and rich. From the era in which original inhabitants of Naumkeag interacted with English immigrants who established permanent homes here in the 1600s, to the movements of goods and people from Salem around the world during the China trade, to waves of immigrants transforming the city's landscapes, politics, foodways and cultural and social institutions from the 19th c. until today, there has never been a "Salem" or an "America" that has not been "global". Likewise, there has never been a "world" that has not been influenced by "Salem" or "America".

     These student-developed exhibits --based on materials held in the Salem State University Archives and Special Collections--showcase a number of the obvious and not-so-obvious ways in which what it means to be either an "American" or a "Salemite" is intimately connected to what it means to be a citizen of the world. a range of people, places, goods, experiences and ideas around the world. Each exhibit engages a nation or region outside the U.S. and explores a unique story about the impacts and influences of "American" and "non-American" people, places and cultures on one another.
       From postcards to maps, from WWII letters to menus, from cruiseship brochures to lesson plans, and from census data to photographs, the material record created and saved by residents of Salem offer insights galore. Discussions of transnationalism, globalization, assimilation, "Americanization" and pluralism are woven throughout.

      May these exhibits inspire visitors to consider the connections between and among thier own places of residence and the wonderful, deceptively small planet we all share. 


Curated by Salem State American Studies students in Prof. E. Duclos-Orsello's IDS 333a course: The Global US (fall 2017) Prof. E. Duclos-Orsello
Featured Item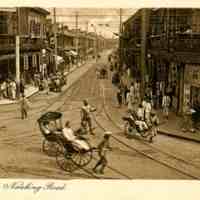 Nanking Road was one of the main streets in Shangai because it was famous for its markets. The big shops found along Nanking Road were established…
Featured Exhibit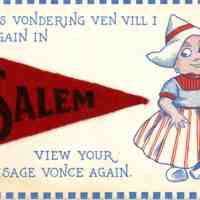 Welcome to the exhibit of 'Dutch' postcards from Salem! In this exhibit you will learn more about ethnic humor, and the...